"Mindful Coaching" Series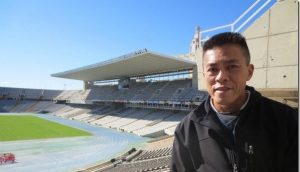 With a view to offering more and more services to member coaches, the European Athletics Coaches Association today inaugurates a series created with the collaboration of Jimson Lee, the creator of the SpeedEndurance.com website.
Neither Jimson nor his website needs any introduction and the EACA is proud to have him on board: it will be a key element in the development of the Association.
This brand new series "Mindful Coaching" aims to cover the world of coaching at 360° by interviewing coaches with different skills and experiences, also coming from other sports or other areas.
The first episode of the first season sees the EACA President Frank Dick OBE as guest, right after his 80th birthday. This episode's title will be "Five decades of coaching" but, obviously, it's impossibile to cover five decades in one hour only so we are planning to see Frank as guest in some other episode.
The series will be weekly or bi-weekly and it begins with an episode available for everyone, even non-EACA members. However, starting from the next episode, the series will be accessible for the EACA members only, no matter if Free, Premium or Pro members.
At this regards, let me reminds you that, in order to celebrate our President's 80th birthday, for the whole current month of May the yearly Pro Membership is 50% discounted FOR LIFE, meaning that those who will become a yearly Pro member this month will pay half the price every year, not only at the sign up.
To get the 50% discount apply the code FRANK80 during the sign up process.
As always, we hope that you'll really enjoy this new content. But we are only at the beginning: lots of ideas in our mind will be effective soon!